India plans to invest $37 billion to create 17,000 MW of renewable energy generation by 2017, the ministry for new & renewable energy has said. The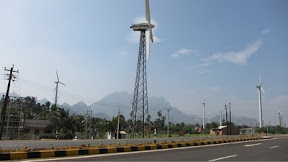 most of the projected investment would come mainly from the private sector.
The present installed renewable energy capacity in India is 20,000 MW which accounts for 11% of the total installed power capacity. The major share ofpower still comes from coal which accounts for 40% of the country's energy usage.
The Indian government had quadrupled its renewable energy targets earlier this year as part of its national plan to reduce carbon intensity which aimedat installing 74.4 GW of renewable energy capacity by 2022 and reduction in carbon emissions intensity by 20-25% of 2005 levels over the next decade.
In addition to meeting its energy needs, Indian government is targeting the investors from all over the world to develop globally competitive industries and technologies that can provide new opportunities for growth. The current ambitious goals for deployment of renewable energy are backed by thegovernment incentives and subsidies to encourage investments in renewable energy sector in India.
More >>>
Location:Cayman Islands