MALIBU, California, June 9, 2011 (ENS) - Large environmental problems like the ongoing Fukushima nuclear catastrophe and the effects of the BP Deepwater Horizon Oil Spill in the Gulf of Mexico still occupy center stage, but an even bigger solution to the planet's environmental woes is rapidly approaching.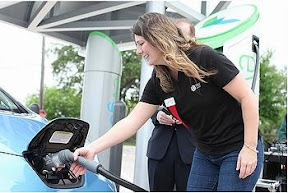 Vehicle electrification can ease dependence on polluting petroleum that is heating up the planet, yet many people are not fully informed on how electric vehicles will fit into their lives. One information gap is public understanding of the important fit between electric vehicles and the smart grid.
A game-changing research paper that addresses this gap, "Vehicle Electrification: Status and Issues," has just been published by the Institute of Electrical and Electronics Engineers in the special Smart Grid issue of the Proceedings of the IEEE. It shows how to change the energy equation and serves as a reference source to understand electric vehicles from a whole systems perspective.
More >>>
Location: Cayman Islands