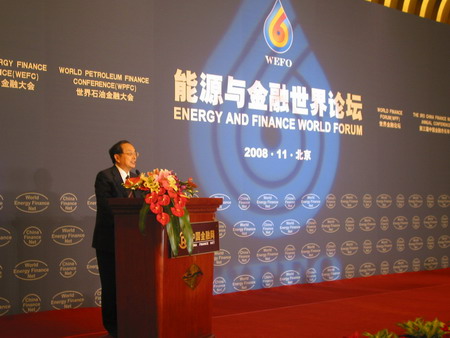 November 03 2008: Jiang Zhenghua, economist and former vice chairman of the Standing Committee of the National People's Congress, speaks at the opening ceremony of the World Energy Finance Conference in Beijing on November 2, 2008.
With the global financial troubles and oil prices fluctuating dramatically, experts from across the world gathered in Beijing yesterday to discuss global finance and energy security and solutions for sustainable development.
Held between November 2 and 5 at Diaoyutai Hotel, the World Energy Finance Conference has attracted government officials, economists and business executives from over 30 countries in energy, finance, and science and technology sectors.
But even more appealing are the two key words in the forum's theme -- Finance and Energy, which have been closely connected to the nation's development as well as individuals' pockets.
The latest financial storm started in the US has been sweeping from Wall Street to main streets across the world. Accompanying the financial crash is the landslide of international oil prices, which have plummeted from a historic high of $147 a barrel in July to $67 last week.
More >>>